The Pharmacy For You
Our expertly trained pharmacists and friendly staff pride themselves on making sure your pharmacy experience exceeds expectations.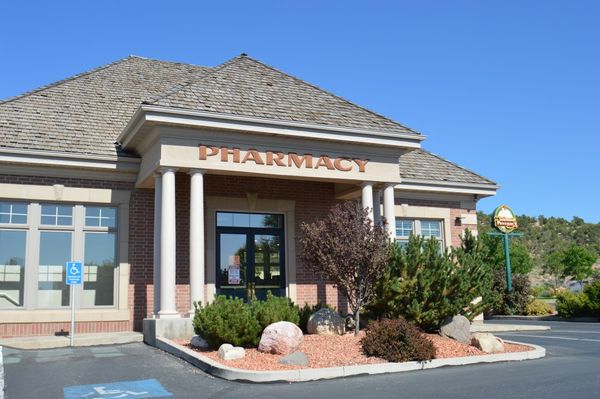 Township Pharmacy is part of the Bulloch Drug Family. After the hospital, Valley View Medical Center, moved from the Southeast part of Cedar City to the Northwest area, Evan and Chris began looking for property where they could build a second pharmacy. They were successful in purchasing property from one of the physician groups across the street from the hospital and they began construction on the new building. Robert A. Bulloch construction was the contractor and with that, a special friendship was formed between the Vicker's and the Bulloch's. The pharmacy was opened in September 2003 and has continued to grow and prosper ever since. The pharmacy provides the same professional service that Bulloch Drug does with the added feature of a drive-up prescription window. Township is currently managed by Kyle Rowley and he and his staff strive to provide the very best professional and customer service that you can receive anywhere.
We Specialize In:
Immunizations
Adherence Packaging
Durable Medical Equipment
Medication Therapy Management
Kyle Rowley, PharmD
Kyle and his wife Shannon have three children and are proud to call
Cedar City home. He strives to meet every patient's needs and help them feel at home here as well. It's important to him to know each patient by name so that he can give them the personal attention that they deserve. Helping people accomplish their healthcare goals is his most important responsibility.
Tenille Francisco, PharmD
Tenille was raised here and enjoys taking care of those who call Cedar City home. Her husband is a local veterinarian, so between the two of them, they are happy to provide healthcare to all of the residents of this valley! She is knowledgeable and professional and goes out of her way to see that each patient gets personal attention. Let her help you achieve your healthcare goals.
Marla Carter, CPhT
Marla was raised in Beaver and understands hometown care. She is a very capable and caring pharmacy technician who knows how to run the ins and outs of a pharmacy. Marla takes the time to get to know each patient and goes out of her way to really care for their needs.
Donna Dawson, CPhT
Donna has many years of experience providing care to patients in Cedar City. Her experience allows her to provide excellent care to each individual. Many who come to the pharmacy recognize her from her days at the previous Albertson's pharmacy. She always remembers your name and provides one on one care!
Takesha Bulloch, CPhT
Friendly and outgoing, Kesha cares about the needs of every patient. Kesha was born and raised in Sanpete County and has a love for a good community. Cedar City has been her home now for more than 8 years, all of which have been spent with us here at Township. She brings a personal touch to all of her customer interactions. We're glad to have her on our team!
Alisha Miller, CPhT
Alisha brings years of medication packaging experience to our staff. Her expertise allows us to help each patient better manage their medications at home. She will work with each individual to provide a customized plan that will work for their life.
Mikayla Nowers, Pharmacy Clerk
Mikayla has been clerking for Township Pharmacy now for more than 3 years now and does an outstanding job. She is pleasant and personal as she helps each customer. Often, she knows your name and has everything ready for you before you even tell her! Her attention to detail and work ethic makes her a prized member of our team.