What Our Patients Like Most About Our Pharmacy
We would love your feedback! Please let us know how we are doing and leave us a review below.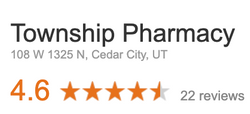 "Very helpful and will answer all questions you have. I received my prescriptions super fast and everyone was so nice!"

"This pharmacy is amazing. They all go above and beyond to help the customers. My only negative comment would be that they are not open on weekends."

"This is one place I love filling prescriptions. They are all so nice + very happy to answer any questions I may have! My kids love going because they always get a little treat!"

"The staff is responsive and helpful. Convenient location near hospital and many physicians. They carry a decent variety of medical supplies (braces, canes, crutches, etc). Overall, it's a great place to fill a prescription or get a flu shot."

"Our favorite pharmacy. Fast, efficient and friendly."

"Quality service and friendly staff very efficient!"
We would appreciate your feedback to share on this page of our website. We'd like to let others know what our current customers have to say about Township Professional Pharmacy! Thank you in advance for your time and consideration.